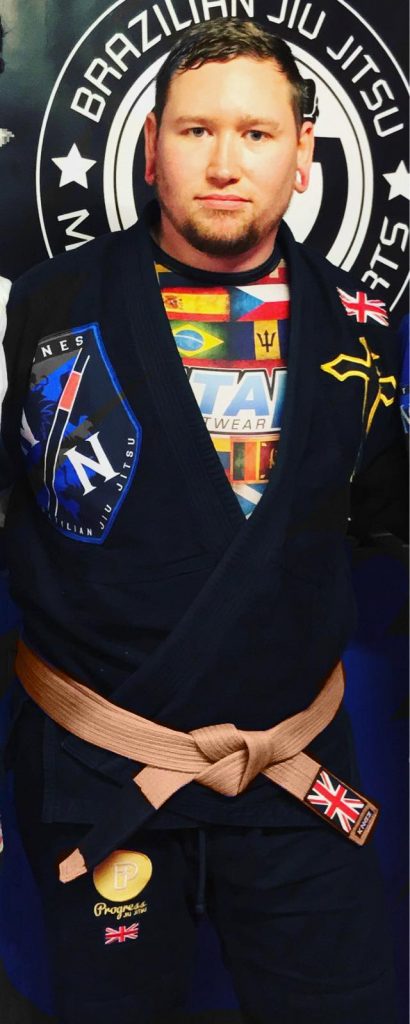 Born in 1980's Britain.
A Brown belt in Brazilian Jiujitsu graded by Antonio Terranova in December 2021.
Jak received his Blue and Purple belts from Francisco "Chico" Mendes in August 2012 and December 2016 respectively.
Jack started training as a young person in boxing. As he moved into his early to mid-twenties he started training in the Thai arts and also Mixed Martial Arts.
He has competed at amateur level in Mixed Martial Arts but did not have the love for the sport to pursue it further.
Jack started training grappling around 2009/10 but only when Francisco "Chico" Mendes moved to the UK did he get drawn to Jiujitsu and decided to leave the other arts behind to concentrate on grappling and Jiujitsu.
Jack also met top amateur wrestler Aman Sakhizadeh in 2012 to further develop his grappling capabilities.
He has competed in grappling and Jiujitsu competitions many times in various formats.
Around 2013/14 he met Tony Terranova and they have trained together and been friends since. He is enormously grateful to have met these people, trained, and been coached by them so he can now share his knowledge with his brothers and sisters at the academy.
Jack is a firm believer in mental health support and wellbeing, and this is his number one priority in life. He endeavours to help others in any way possible and is always available for help, support, advice or just a chat.